Easter Sunday is one of our FAVORITE Sundays of the year! This day is all about celebrating JESUS and the fact that he is ALIVE! Whatever life looks like for you right now— whether you're doing great and life is good, or whether you're searching for answers, feeling hopeless or engulfed in fear, YOU are INVITED to Easter at New Hope! Our hope is that wherever you are, you will be inspired and challenge to take a next step in your faith.
From the moment you walk onto our campus we will have a team of people ready to serve you.
WE CAN'T WAIT TO WORSHIP WITH YOU!
In order to accommodate everyone as safely as possible (socially distanced) we are providing three opportunities for you to be able to attend Easter at New Hope.
Our three service times are: 8:45am, 10am and 11:30am.
You don't want to miss our GLOW party this Easter in New Hope Kids! We are so excited about celebrating JESUS with your kids— infants to 5th grade.
Our New Hope Kids services will be during the 10am and 11:30am services only. We will begin check in 15 minutes prior to each service (9:45am and 11:15am).
New Hope's Sunday services begin with an energetic and engaging worship experience.  We want you to feel free to sit, stand, clap or lift your hands during the worship time—knowing that worship is about connecting with God.  The teaching portion of our service is Bible based and aims to be relevant and practical for your everyday life.
What to Wear: Attire at New Hope ranges from business casual to jeans & t-shirts.  We want you to wear whatever is comfortable to you!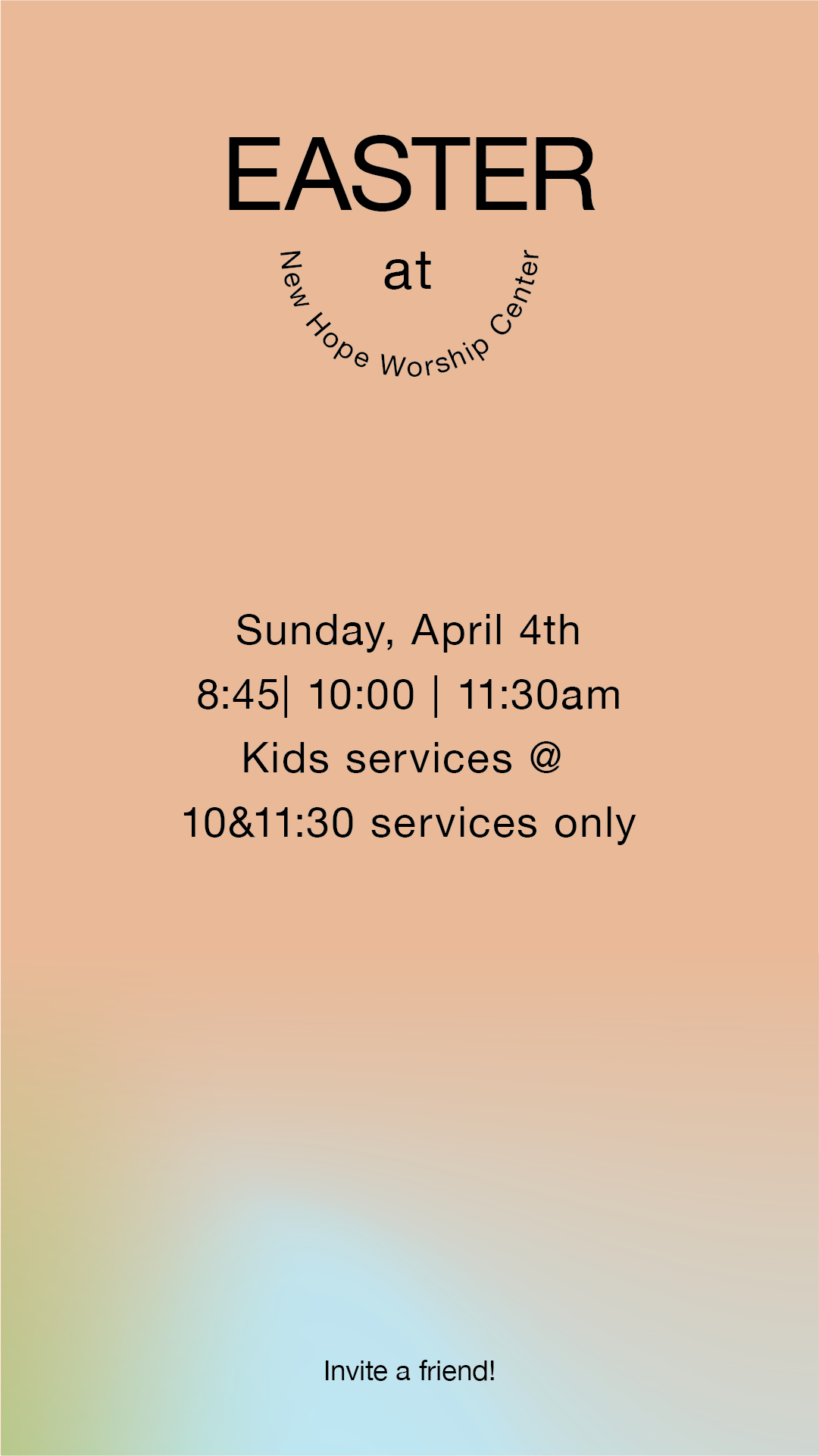 The reality is— most of us want to invite our co-workers, friends, neighbors and family, but sometimes we just don't know how. We want to make that easy for you because we believe the power of an invitation can change someone's life!
Our hope at New Hope is to resource you with the tools for invitation! Listen— we all know that inviting others to church can be intimidating and sometimes even awkward, but we want to empower you with tools to make it easy.
Below is a dropbox link filled with resources for you! You will find items to post on your Facebook and Instagram pages as well as digital invites to text and share.